Dr. Dilip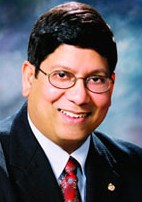 Dr. Dilip has trained and inspired thousands of people in many different industries in almost every State in the USA and in seven different countries since he launched his training, speech coaching and professional speaking business in 1994. The focus of his company, Dr. Dilip, LLC (and Speaker Services Unlimited, the coaching division) is to enable individuals and organizations unleash their communication and performance potential.
One of his favorite quotes is: "If you want to change the world, don't wait for the world to change; just look at the old world with new eyes."
Dr. Abayasekara (known affectionately as "Dr. Dilip" by many of his clients) has helped thousands of people discover their "new eyes" through his private customized speech coaching, seminars and workshops in the areas of communication & presentation skills, creative thinking, relationship building, customer service, leadership and spirituality and his inspirational keynote speeches.
Dr. Dilip is on the speaking circuit for the Institute for Management Studies as well as for Vistage International, the world's largest CEO organization. He also serves as the Special Assistant to the President of Central Pennsylvania College and has been an adjunct faculty member in the areas of oral communication and interpersonal communication for Central Pennsylvania College and Eastern University's School of Professional Studies.
Dilip was twice a finalist at Toastmasters International's World Championship of Public Speaking, placing second in 1992. He is among a small number of Toastmasters who have received accreditation by Toastmasters International for professional level speaking skills and outstanding contributions in public speaking. In 2005-2006 he served as International President of Toastmasters, with the theme, Find Your Voice, Serve Your World.